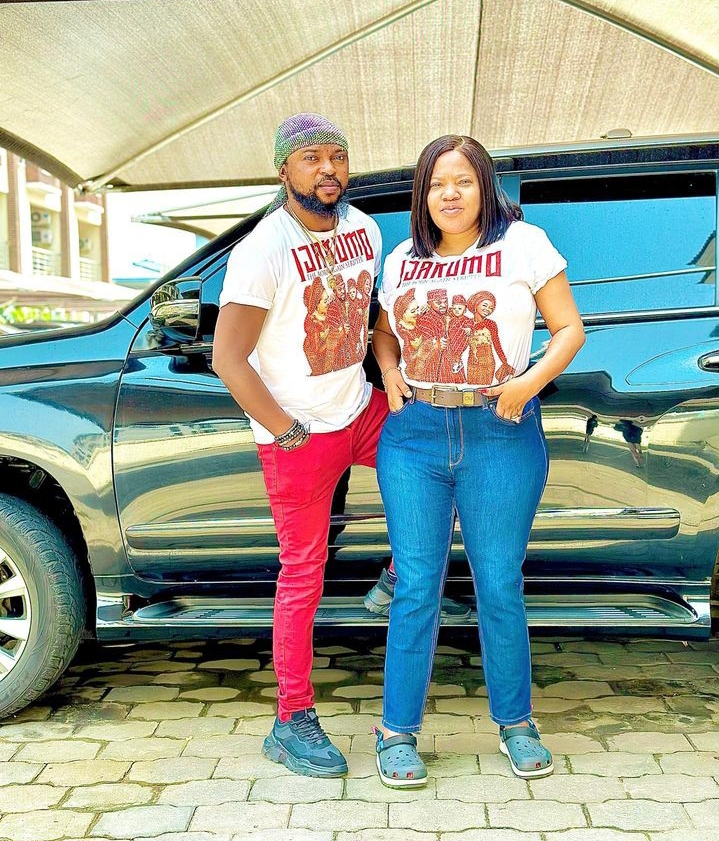 Hours after Nollywood actress, Toyin Abraham revealed that her greatest fear is losing her home and marriage, she has now penned a public appreciation post in honor of her husband, Kolawole Ajeyemi.
Sharing a photo of them together wearing a tee shirt inscribed with her newly movie Ijakumo, Toyin Abraham on Instagram wrote "Emi ati Oko mi atata. Thanks for standing by me and supporting me every time and always.Mo love e paa"
Nollygistvibes recalls that Toyin Abraham in a recent interview with Media Room Hub vowed never to leave her husband, Kolawole Ajeyemi. Toyin boldly declared that she can't leave her husband and vice versa.
According to her, she can't imagine herself and her husband not living together.
However, she finds comfort in knowing that her marriage is ordained by God and as such, doesn't need to fear anymore.
"I don't want to ever lose my home. I don't want to ever have a broken home. I can't imagine myself and my husband not living together. I can not imagine, that's the only fear I have. I can leave my husband and my husband can't leave me. But I know it's ordained by God, so there is nothing to be scared of".
Toyin Abraham opens up on her pregnancy loss
Earlier this month, Toyin Abraham had opened up on her pregnancy loss.
The light-skinned actress, who was believed to be pregnant early this year, had confirmed that she was indeed pregnant. However, the baby didn't survive as she lost the child.
Toyin revealed that she cried following the loss as she wanted to have one or two kids and he done.
She also spoke about how she was body shamed after getting bloated from the loss.
"When the time is right, the pregnancy will stay.
I plan to have more kids, I was actually pregnant but I lost it.
I cried because I wanted to have one more or two kids and am done.
Things happened and I was bloated and many body shamed me but am used to it as an actress".
The post Toyin Abraham celebrates Kolawole Ajeyemi after revealing fear of losing her marriage appeared first on Nollygistvibes.
source
https://www.nollygistvibes.com/2022/12/28/toyin-abraham-celebrates-kolawole-ajeyemi-after-revealing-fear-of-losing-her-marriage/