"I didn't want him to marry another wife, but it was his choice" Pete Edochie speaks out on Yul Edochie's second marriage Nollygistvibes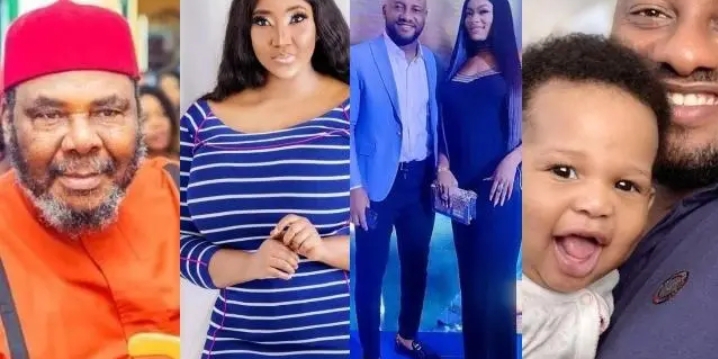 Veteran actor, Pete Edochie has spoken out on his son, Yul Edochie's marriage to colleague, Judy Austin
In an interview with Vanguard, Pete Edochie revealed how he felt when Yul disclosed that he had picked a second wife.
The legendary actor said he didn't feel good about his son's decision but had to crave in because it was Yul's choice to make.
"I didn't feel good, but like I said, I'm a Christian and I read the Bible, Solomon, with 700 wives and 300 concubines, was branded a man of wisdom. It's his choice and for whatever reason he decided to take a second wife, that's what I can say".
This isn't the first time Pete has spoken out on Yul's marriage to Judy.
Pete Edochie breaks silence on Yul Edochie's second marriage
Nollygistvibes reported that veteran actor, Pete Edochie had reacted to the controversy trailing his son, Yul Edochie, who announced the birth of his new son, with his colleague, Judy Austin.
Pete Edochie was reportedly disappointed that his son, Yul had a child with someone else, after having four children from the legitimate wife of over 16 years, May.
The Veteran Pete Edochie had given the new wife an ultimatum, saying:
"I want the whole world and Nigerians to understand that as an Igbo man, I never support my son's actions and as a statesman, I only recognize his first wife, May as the only authenticated wife of my son, the rest is banished from entering my household" noting that marrying two wives does not confer a manly status on anyone.
Pete Edochie also lamented saying,
"Right from when Yul was still a child, he never listened to him. "I'm not shocked that he has a son without my knowledge. A child that doesn't listen to his father ends up cutting his or her life span short."
Pete Edochie and Yul reconcile
However, Yul Edochie was able to settle his differences with his father, Pete Edochie.
Putting aside their differences for family sake, Yul Edochie and Pete have reconciled.
Yul took to his Instagram page to share a photo of him and his father as he gushed over him.
He stated that the love he had for his father is out of this world.
He wrote, "The love I have for this man is out of this world. My man for life. The last Don. Chief Pete Edochie @peteedochie May God grant you 75 more years on earth. Making it 150yrs in total. No matter what you're passing through, never let it weigh you down. Problem no dey finish. Once there's life then all is well. This weekend, enjoy life beer. Drink responsibily".
<p>The post "I didn't want him to marry another wife, but it was his choice" Pete Edochie speaks out on Yul Edochie's second marriage first appeared on Nollygistvibes.</p>
source
https://www.nollygistvibes.com/2022/12/03/i-didnt-want-him-to-marry-another-wife-but-it-was-his-choice-pete-edochie-speaks-out-on-yul-edochies-second-marriage/