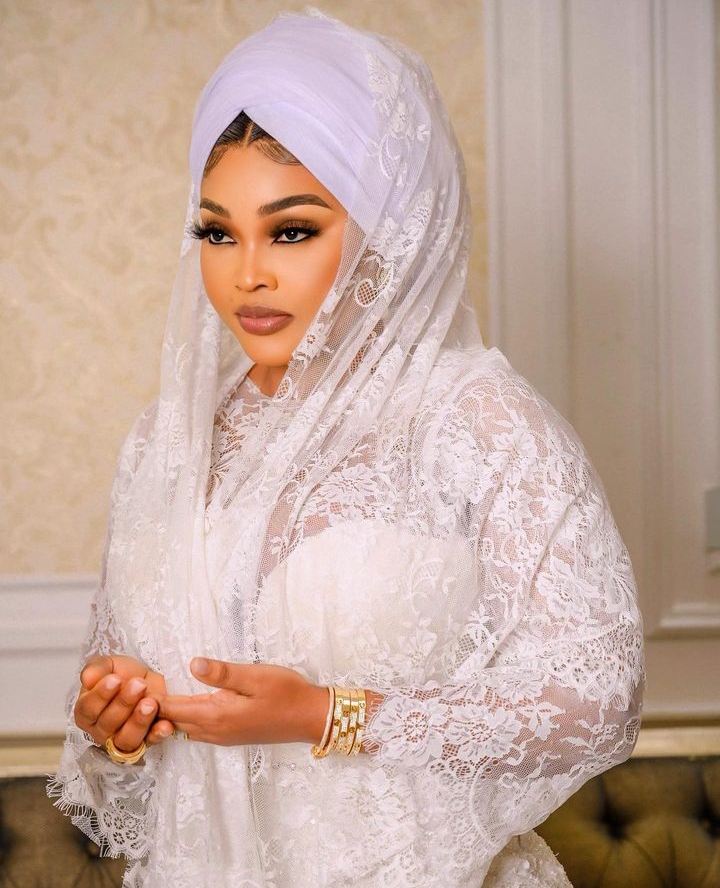 Since becoming the wife of Marketer, Kazim Adeoti, Mercy Aigbe has fully embraced the Islamic religion.
From her mode of dressing, to the way she carries herself and more, the actress is slowly transitioning into a Muslim.
Taking to Instagram to share stunning photos of herself dressed like a Muslim, Mercy Aigbe revealed her new title, Hajia Kazim Adeoti.
She wrote,
"Hajia Kazim Adeoti"
This isn't surprising as months back, Mercy Aigbe fully took up her husband's surname, Adeoti.
The actress who shocked the world when she announced in January that she was dating a married man with four kids made a public change to her name.
NGV did a check on her Instagram bio, and discovered that the actress had taken up her husband's name.
Mercy Aigbe is now be referred to as Mercy Aigbe Adeoti.
The new update to her name came after she stormed her husband's village for the Sallah celebration.
To make her mark as the wife of marketer, Kazim Adeoti, Mercy Aigbe had stormed his hometown, Oro town in Kwara for the second time to celebrate the festivities.
Ever the philanthropic queen, Mercy Aigbe brought a lot of foodstuffs to reach out to the less privilege.
Mercy Aigbe shared a video on her Instagram page of her showing love to the widows, and aged women in her husband's hometown.
"Came to Oro Town, Kwara State, for Sallah but didn't come empty handed! @kazimadeoti. We came with our token for Widows in Oro Town, a lot of widows, aged women got Sallah gifts, Alhamdulilah that we are able to put smile on their faces!".
Mercy Aigbe steps out in style with all the 'Iyawo Ile' at her husband's family hometown
Mercy Aigbe also shared the beautiful moments she had with the senior wives popularly known as Iyawo ile at her husband's family hometown.
The award-winning actress was captured in matching outfits popularly known as Aso Ebi (uniform cloth) with her senior wives.
Captioning the photos, Mercy Aigbe wrote: My Sallah in Oro, DIARY!!!!
Asoebi with some 'Iyawo Iles' 'senior wives' …..
Anko ( like its called) or asoebi is a uniform outfit worn to indicate co-operation, togetherness during ceremonies or festive period …. ( y'all should clap for me oh for my definition)
I think this originated from the yorubas, please kindly correct me if i am wrong".
The post "Hajia Kazim Adeoti" Actress Mercy Aigbe reveals her new title appeared first on Nollygistvibes.
source
https://www.nollygistvibes.com/2022/12/24/hajia-kazim-adeoti-actress-mercy-aigbe-reveals-her-new-title/