Nollywood actress and soon-to-be box office queen, Toyin Abraham has forgiven celebrity stylist, Toyin Abraham for wearing an outfit with her face on it.
NGV reported days back that Toyin had threatened Lawani, if she failed to attend her event wearing an outfit with a face on it like she did for Funke's movie premiere.
To avoid trouble, Toyin Lawani heakened to Abraham's voice and splashed Abraham's face on her outfit.
Sharing the photo on her Instagram page, Toyin bragged that the movie premiere can't start without her.
"The show doesn't start till the king of fashion arrives. Came all out for my sister".
Commenting under post, Toyin Abraham stated that God saved her.
"God save u ode".
Toyin Abraham threatens Toyin Lawani
Recall that Toyin Abraham had dared her stylist, Toyin Lawani against the premiere of her highly anticipated movie, Ijakumo which held on Sunday, November 18, 2022.
Toyin Lawani had previously stormed Funke Akindele's movie premiere, Battle on Buka street, in a piece that had an image of Funke Akindele.
The creatively styled attire was adjudged the best-dressed title at the occasion and movie producer Funke Akindele was beyond grateful.
"It is so unique and hot, I want one" Funke Akindele had remarked.
Now daring the celebrity stylist on Instagram moments ago, Toyin Abraham while commenting on a post on Toyin Lawani's [age wrote "You are a fool, make i no see my face for your cloth tomorrow, you will see serious madness. Love you sha"
Toyin Lawani disclosed how Toyin Abraham had reached out to her to officially style the cast of her movie, Ijakumo.
Toyin Lawani recounts styling Toyin Abraham's movie
To be honest the 1st time this werey @toyin_abraham sent me this script and asked me to style the movie. I couldn't drop it. I'm like what the hell is this? It was so intriguing and exciting I didn't drop it till I was done. The twist and turns is what even gets me. Like this idiot @toyin_abraham how did you even come up with this, Ojumikan pop ni.
Imagine make person they threaten you down for one year that saying I'm writing a movie and I want you to style it , I will say when you are ready , she will call again 6months and threaten me again


3months same threats. Till the last month till she sent script. I'm super proud of you. Tomorrow is all about you,
If na to carry broken neck come. With drip for hand. We go show.
IJAKUMO THE BORN AGAIN STRIPPER IS SURELY A BADDASS MOVIE YOU CANT AFFORD TO MISS ,
And guess what, It was styled by the king of fashion.
Shey you all said you loved my styling for king of boys ,
Well here's something different again," Toyin Lawani disclosed.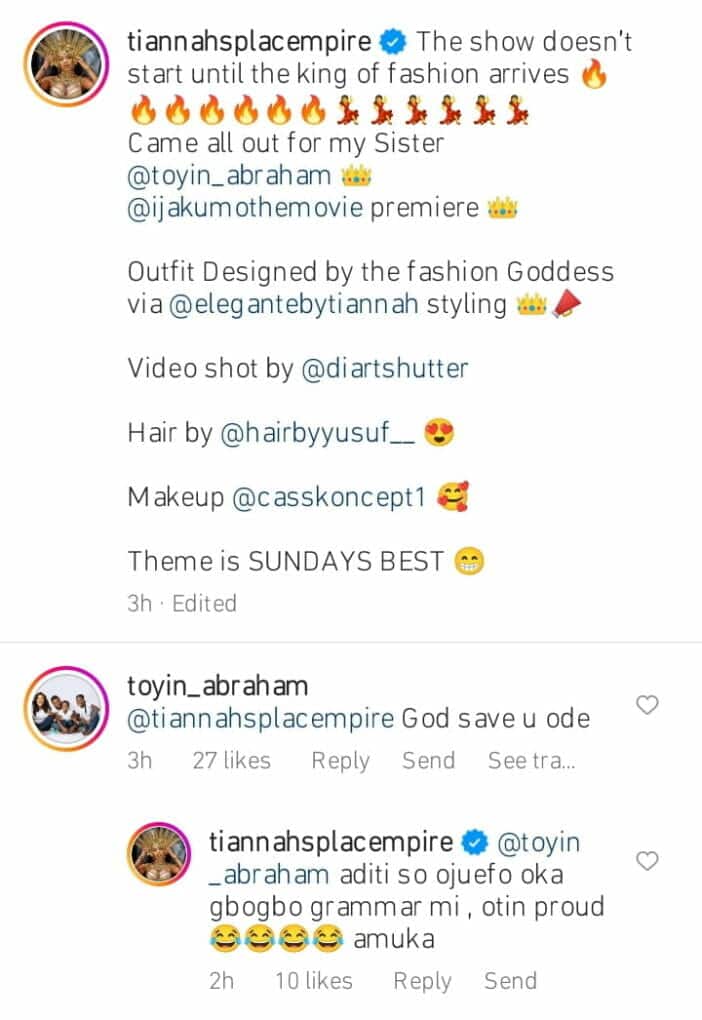 The post "God save you" Toyin Abraham reacts as Toyin Lawani wears outfit with her face, days after threatening her appeared first on Nollygistvibes.
source
https://www.nollygistvibes.com/2022/12/19/god-save-you-toyin-abraham-reacts-as-toyin-lawani-wears-outfit-with-her-face-days-after-threatening-her/