"Gbola dey front dey jump" – Netizens mock Bobrisky as he bares butt to twerk Nollygistvibes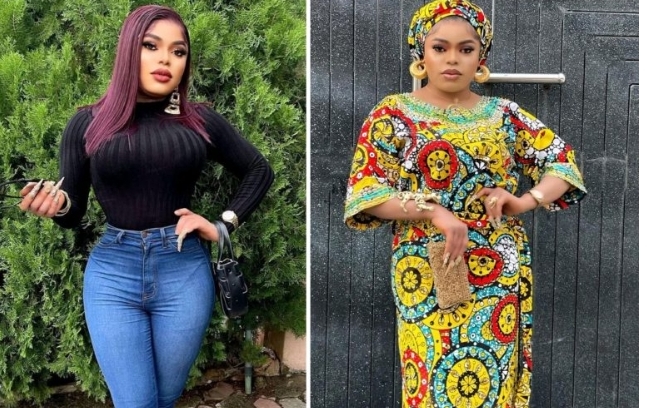 Controversial Nigerian cross dresser Idris Okuneye, better known as Bobrisky, has taken to his instagram account to share a video of himseld twerking with his bare butt.
In the video that has since gone viral, Bobrisky is seen twerking with his bare butt as he appriciates his doctor for doing a wonderful job on his body. He also noted that his skin is flawless.
Netizens mock Bobrisky
Bobrisky who has his bizarre way of staying relevant on social media has been mocked by Netizens for baring his fake butt. While others slammed him for never wearing a bikini if his doctor truly did a perfect job on him, others slammed him for trying to outshine his junior colleague, James brown better known as the Dutchess of London or Princess of Africow.
NGV recall days back that James Brown set the internet agog after his s*x video leaked on monday 10th October 2022.
The crossdresser was seen having s*x with an unidentified woman in the video. Finally speaking out, James Brown stated that he felt depressed and sad.
According to him, he can't sleep well and was having a bad dream. "For the first time in a long time I am sad & depressed, I feel down and tired. Is this what it fell like. He further tweeted, "I can't sleep well, I am havering a bad dream".
Se comments below;
@efemena: I open Instagram, boom first thing see na bob yanshee
@siri_secrets23: Please ensure that your comments are brief and spellings are correct, so we can read quickly and move to the next comment. Thank you comrade!
@peaceey: I cover my eye with the blood of Jesus
@luibaby: Looks like the yansh won burst Abi wetin Dey dance inside the yansh so?
@vickiees: if your doctor finish work, why have you never worn a bikini and taken an ass shot? ugh pls stop joor. this is the only angle you've ever taken. plus someone that's proud of his bbl would show it everyday
@xuccessful_xchange: This your room is so ugly. Who uses wallpaper this days?
@presh_cisca: Be like them use mud mould this yansh cause what the hell is this bobby
@jadesola_010: neva see the comment wey I dey find dey comeback I think came early 96
@bellematters: m Ahhh, this one off me.. 0 tbh Bob, you don't need this. The internet never forgets.
@yes_i_lived: Wetin be this? He be like lleya goat weh dem scrape the hair comot with hot water.
@itzfejibaby Abeg if you must show us yansh try show us from the right angle.
@kayzee_media_concept: Bobo don't think you dey ok have you taken your meds?
@majorogah: Even Lucifer the rest. Idris try no the carry worldly things for head. I know it's poverty but can get out of it doing legitimate business.
@nwamaka.ndego: See small Nyash dey shake o small Nyash dey shake o. Suffocate them with your small nyash.
@weddingcoments:Bob is just one hell of a uselex human alive. What's this bayi?
@phunto.atoks: Bob you mess like furapapapa while making this video true or false?
@tricia_asuquo: For your mind na nyash you Dey shake… Bread wey don stay for 1 year better pass this nyash see as e strong.. and you think say the thing dey shake oo
@fmanmoney: James brown dn repent Dey there Dey do doctor say doctor no say rubbish.
@pinkypuch: What's all this ???? U sha want to be notice by all means as them don forget you here
@_verifiedofficial: all of us suppose report shim account tonight
@omanne1: Anybody that walks into that room will definitely catch a whiff of something strange
@mirandrew_collections: I told myself recently that this one his comment section is low, he might do something like this to trend. Just negodu
@patty.vivian: Am just imagining how his dick would be dangling right now
@zsavier_optimum_hairlaundry Trying so hard to meet up with junior man James brown
@cute_wegold: Gbola dey front dey jump as we speak awelekeeeeeeeeeeeeee.
<p>The post "Gbola dey front dey jump" – Netizens mock Bobrisky as he bares butt to twerk first appeared on Nollygistvibes.</p>
source
https://www.nollygistvibes.com/2022/10/25/gbola-dey-front-dey-jump-netizens-mock-bobrisky-as-he-bares-butt-to-twerk/?utm_source=rss&utm_medium=rss&utm_campaign=gbola-dey-front-dey-jump-netizens-mock-bobrisky-as-he-bares-butt-to-twerk