"Are you m@d?" – Actor Bolanle Ninolowo challenges Charles Okocha after he caught him wooing his wife (Video) Nollygistvibes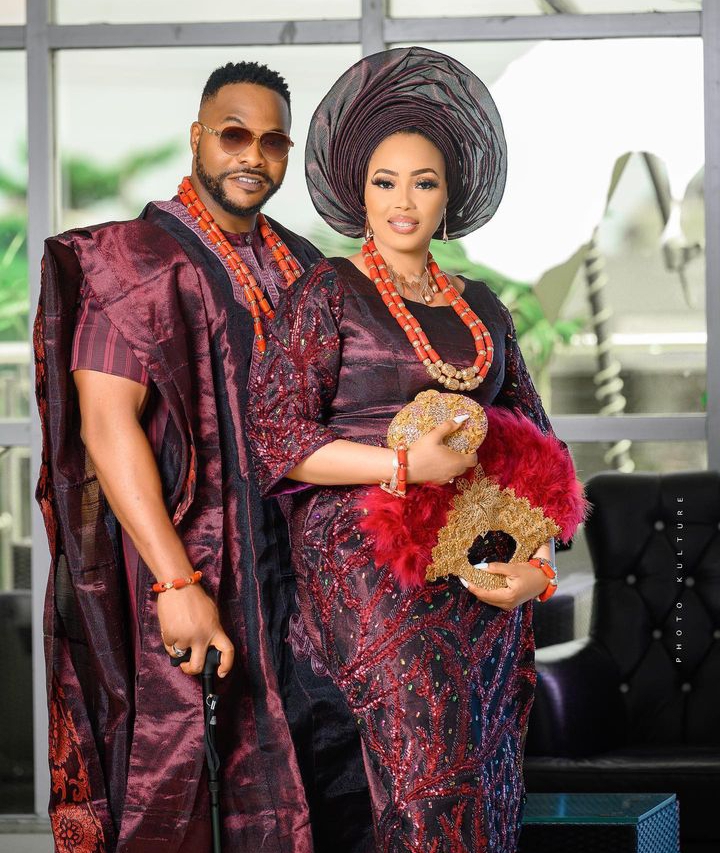 A recent video involving Hefty Nollywood actor, Bolanle Ninolowo with his wife, Bunmi and actor, Charles Okocha has hit the internet and by extension generated several reactions.
The video shows that Bolanle Ninolowo was having a vacation with his wife in the U.S.A and fortunately, Charles Okocha at the moment is also present in the U.S.A.
Recall that Bolanale Ninolowo met his wife Bunmi in 2004 and got married the same year. They are blessed with 2 children, Aliyah and Morakinyo Ninolowo.
In the clip that surfaced online, while Bolanle Ninolowo and his wife were moving out from a restaurant, however, the wife walk out first, then Charles Okocha bump to her unknowing that her husband is within the same environment.
However, Charles Okocha wasted no time to drop some pickup lines as he introduced himself to her, then claims some affiliations with JayZ and Beyonce as a way to capture her heart.
During the process of wooing her, Bolanle Ninolowo comes out of the restaurant and was amazed to see Charles and that was just the beginning.
Swiftly, Bolanle Ninolowo realized that Charles has been toasting his wife and had to ask if he doesn't know that she is his wife.
Loosing his calm during the process, Bolanle Ninolowo questions Charles sanity, as he moves closer to Charles to beat him up. Luckily for Charles he managed to take to his heels by running away with his bare foots leaving his footwear away in the process.
Sharing the funny video on his page, Bolanle Ninolowo wrote;
"THEN THIS HAPPENED

JUST WHEN YOU THOUGHT THE MAD MAN @CHARLES_OKOCHA HAD FINISHED AND GONE BACK TO HIS CALIFO9HEY! WEREY RAN INTO MAMA ALIYAH AND WANT TO FILANDRAA NI SHAA
OLOHUN YOR IYA EH



NA STILL JAYZ & BEYONCE NAME E WAN USE OPPRESS MY WIFE OOO!! ASHUNU



MAKA
."
<p>The post "Are you m@d?" – Actor Bolanle Ninolowo challenges Charles Okocha after he caught him wooing his wife (Video) first appeared on Nollygistvibes.</p>
source
https://www.nollygistvibes.com/2022/10/28/are-you-md-actor-bolanle-ninolowo-challenges-charles-okocha-after-he-caught-him-wooing-his-wife-video/?utm_source=rss&utm_medium=rss&utm_campaign=are-you-md-actor-bolanle-ninolowo-challenges-charles-okocha-after-he-caught-him-wooing-his-wife-video