Mide Martins receives surprise from a Grandma at birthday party (Video) Nollygistvibes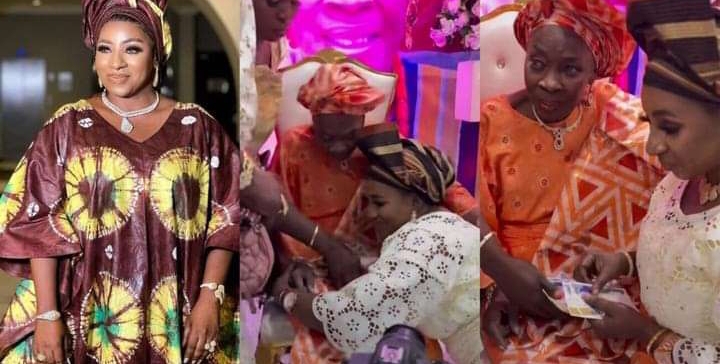 Nollywood actress Mide Martins is excited about the unusual thing an aged woman did to surprise her.
Mide Martins had attended the woman's 70th birthday.
The wife of Afeez Owo revealed that the woman had named her grandchild after her name, Olumide.
The woman named her grandchild after the actress because of her immense love for her.
Mide, who was taken aback by her sweet gesture, rained money on her.
An overjoyed Mide who felt it was surreal appreciated her for the thoughtful act.
"MRS TITILAYO'S 70TH BIRTHDAY.
How else can I appreciate this wonderful abiamo?? She named her last born and grand child my name OLUMIDE simply because of the immense love she has for me who says true love does not exist??? I LOVE YOU IYA MI".
In similar news, Destiny Etiko wowed many of her fans after sharing a video of an aged woman passionately praying for her.
In the video, Destiny Etiko was captured with the aged woman who was excited about seeing the actress as she hugged her.
The older woman also heaped prayers on Destiny Etiko, and she responded amen, adding that the woman always makes her happy.
She wrote: This woman always makes me happy. I SAY A BIG AMEN TO ALL YOUR PRAYERS. BLESS U MAMA".
<p>The post Mide Martins receives surprise from a Grandma at birthday party (Video) first appeared on Nollygistvibes.</p>
source
https://www.nollygistvibes.com/2022/08/28/mide-martins-receives-surprise-from-a-grandma-at-birthday-party-video/?utm_source=rss&utm_medium=rss&utm_campaign=mide-martins-receives-surprise-from-a-grandma-at-birthday-party-video